Sultan Al Jafran, Lawyers and Legal Advisors, a Saudi Law Firm founded in 2008. Since its inception, the Firm has been keen to provide its services in various legal fields with high quality and professionalism according to international standards.
The Firm includes many lawyers and legal advisors with extensive and accumulated experience in all legal fields.
To provide the best legal services to our clients in the regionally and all over the world, we have coordinated and concluded many legal associations between our Firm and some regional and international law Firms in Arabic and foreign countries, in order to provide a variety of services to our clients, in addition to facilitating their business locally and all over the world.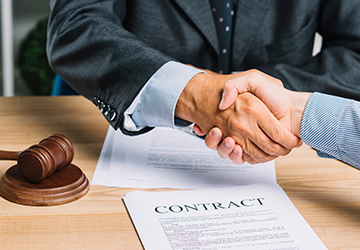 Due to the rapid improvement and divergence of regulations and legislations inside and outside the Kingdom of Saudi Arabia, which may make it difficult for many companies and individuals to understand these regulations and legislations. In this sense our Firm built a vision aspiring to provide services in various legal fields in high quality and professionalism, according to international standards. Therefore, it is deemed to be one of the best law firms in the region and the world.
To highlight the legal profession in a honorable and prestigious manner by building a mutual trustful relationship between the Firm and the clients based on credibility and honesty, as we seek to keep pace with the development and progress in the legal profession locally and international levels in various fields.
Providing the best legal services according to international standards.
Honesty, sincerity in providing legal services.
Transparency in dealing with our clients.
Non-disclosure of information provided by the client.